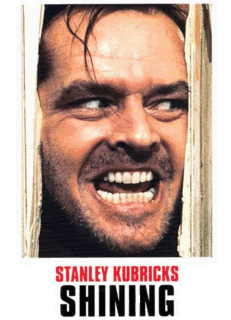 Over the weekend before Halloween, the Lady and I watched a bunch of horror movies. We were too busy the actual weekend of Halloween to watch anything more than The Nightmare Before Christmas, so it seemed like a good idea at the time. Luckily for me, I can watch a dozen horror movies a day and not have an issue, but unfortunately, somebody I know was having some difficulty sleeping after movies like Funny Games, Saw and The Shining. I've been meaning to watch this film all the way through for awhile, now. I read the novel a few times over the last several years, and I've heard that the adaptation isn't as good as the novel. The interesting thing about The Shining is that it's good on its own merits, separated from the novel. The novel is great, and examines the psychology of horror, and I really enjoyed the treatment of the supernatural, psychic abilities, and ghostly possession.
Stanley Kubrick is a pretty crazy guy. He had a tremendous reputation from the actors that he worked with, and almost every movie that he directed is extraordinarily twisted, creepy, interesting, and well directed. The camera angles are interesting, mise-en-scene well thought out and full of subtle meanings that I can't even remember off the top of my head, and a subtlety of movement (or lack thereof), as well as an extremely interesting use of pacing and editing (jumping from the first day to like a month later, and Jack's slam-cut in the hedge maze).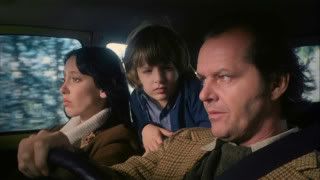 Jack Torrance (Nicholson) is a recovering alcoholic ex-schoolteacher, who accepts a job as a caretaker for a large hotel during the winter off-season. His wife Wendy (Duvall) will accompany him, as well as his young son Danny (Danny Lloyd), who is obviously a special boy, as the film quickly and clearly establishes. A boy named Tony speaks through Danny occasionally, and he doesn't want to go to the Overlook, but doesn't explain why. They basically move to the hotel at the end of the summer season, before the weather gets cold, and Danny speaks with Dick Hallorann (Scatman Crothers), an elderly man who is also a psychic, and tells Danny that it's called "the shining." As they live in the hotel, just the three of them, in a gigantic hotel, Jack tries to write a novel, Wendy tries to keep them together, and Danny just likes to be vaguely creepy and ride his big wheel around the hallways. Jack sinks progressively farther into a strange psychotic depression, and it's difficult to tell whether the hotel itself begins providing him with alcohol, or if he imagines the whole thing. Danny begins having visions revolving around room 237, as well as some really creepy twins that show up, the murdered daughters of a previous caretaker. Jack eventually gives in to the anger and alcohol, and tries to murder his wife and son, just as the previous caretaker had (though the last caretaker succeeded).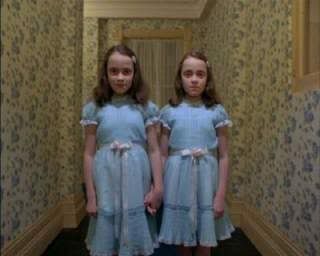 Kubrick is a great director, which I think I said before. It's definitely not everyone's cup of tea, but it's pretty impressive what he's able to do with pacing, storytelling, and shot composition. This was also Kubrick's first film in which the Steadicam was used, and some of the most iconic steadicam tracking shots in cinema are from this film (mostly the shots tracking behind Danny as he BigWheels around the hallways of the hotel).
I need to read the novel again; I had always heard that there was some dispute with Stephen King that he didn't particularly enjoy the film as an adaptation of his novel. I think the film could have easily gone itno more about Danny and his abilities; as it is, and perhaps because of the young age of the actor, he's a relatively minor character, which is pretty annoying to me. I've always found that King can write some interesting child characters, especially ones that are touched by special gifts that are potentially dangerous and harmful. Also, as far as I know, Danny Lloyd was only in one other movie in his short and young career (also, I've read that he didn't know The Shining was a horror film until he was 17; Kubrick protected him pretty well during filming so he thought he was just in a drama, apparently).
This movie is creepy and scary as hell. It's interesting, and has been analyzed multiple times in terms of any messages it may contain regarding the family, humanity, as well as certain issues like substance abuse (relatively common for King at the time, considering his own problems), and general social concerns Kubrick tends to stick in all of his films. It's strikingly horrible in a lot of ways (n the good way, not bad, but full of horror), and it's definitely a classic that should be checked out.
I give it four big-toothed Shelley Duvalls out of five, or four seemingly slow but apparently psychic creepy little boys on Big Wheels out of five.