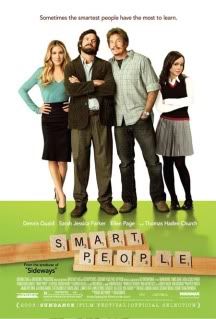 To a certain extent, I take offense to the general idea of this film, that smart people are also kind of dumb. Not in the academic sense, but in a more common sense area, especially when it comes to interpersonal relationships, like with family, romance, and friends (technically, none of the characters in the film have "friends," even briefly or peripherally introduced). Actually, the more I think about it, the more accurate it is. The smart kids are always the social misfits and the weirdest, most awkward humans imaginable. Nevermind, this movie is pretty accurate and definitely on point, though it's occasionally a little on the nose.
Released in 2008, Smart People was directed by Noam Murro and written by Mark Poirier. It stars the ever-awesome Dennis Quaid, the constantly surprising Thomas Haden Church, the reliably entertaining Ellen Page, and friggin' Sarah Jessica Parker. That wasn't a good "friggin'," by the way. Oh well, she doesn't detract from the other performances or anything, so that's good. Dennis Quaid plays Lawrence Wetherhold, a somewhat awkward, pretentious, and overly intelligent English Professor at Carnegie Mellon University. Ellen Page plays his daughter, a compulsive overachiever and social misfit, too intelligent for her own good and aware of it, who has stepped in to fill her late mother's shoes. Thomas Haden Church plays Chuck, Lawrence's adopted brother, who is the most normal character in the film (though he doesn't have a job, any real interpersonal relationships outside the family, and no real ambitions whatsoever). Sarah Jessica Parker plays Dr. Janet Hartigan, who treats Professor Wetherhold, and is a former student of his, and takes it upon herself to play the romantic interest to Lawrence. Their relationship is pretty random, and nonsensical, and whatever, nothing makes much sense. I guess it's not supposed to?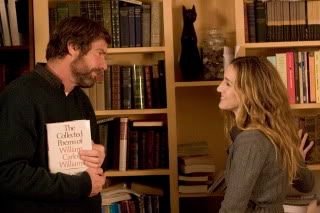 The Wetherhold family is extraordinarily dysfunctional, and virtually every member is adrift, lost, and unable to adequately cope with pretty much anything that happens to them. Lawrence is an English professor who is universally disliked by most, and can't be bothered to remember any of his student's names. His wife passed away some time before the movie takes place, and he's finding it impossible to adequately deal with it. His daughter Vanessa is insane over getting into college, and assuming the matronly role, and even helping her father come up with the title of his latest book, which he's having trouble publishing. His adopted brother Chuck shows up out of the blue, which is sort of lucky, because Lawrence hurts himself trying to hop the fence to get his papers out of his impounded car, and his vague sense of "who gives a crap" seems like it should be a positive influence on the household, and maybe it does, but it isn't anything earth shattering. Sarah Jessica Parker shows up as Dr. Janet Hartigan, a former student who treats his injuries, and they begin a very strange romantic relationship, complete with a pregnancy. Apparently, everyone learns a valuable lesson, and we see Professor Wetherhold becoming a better father, Chuck becoming still the same old Chuck, and evidently everyone else improves in some meaningful way.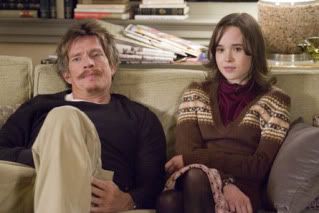 Nuno Bettencort, lead guitarist from Extreme provides the majority of the soundtrack, which is thankfully very far from Extreme, both in terms of the band name and the actual adjective. It helps the film find that weird balance of funny, depressing, awkward, and engaging. There are less than a dozen actors with lines in this movie, if I remember correctly, which definitely isn't a bad thing. It's an incredibly dialogue-driven film, with smart, witty, and sometimes awesome dialogue. It's low-key, subdued, subtle, and while its characters are often times incredibly pretentious, overblown, and utterly insufferable, the film itself manages not to be.
It's a pretty decent movie for a first time director, and a first time writer. It must have struck some good chords somewhere, because while he's not Brad Pitt, Dennis Quaid is a pretty big name actor. And even though she looks like a foot, Sarah Jessica Parker is a pretty big star. Luckily, the last few years have been pretty good to Thomas Haden Church, so he's getting pretty popular, and thusly a decently sized star. And of course, cute li'l Ellen Page has been a dynamo lately. And they're virtually the only members of the cast, and so there's a fair amount of star power for a couple of first-timers. Also, I'm jealous. I mean, it's not an incredibly dynamically directed film, but it doesn't need to be. And it's very smartly written, and the direction enhances the inherent timing of the dialogue and situations. I'm pretty impressed in general.
I recommend this film for anyone that's related to English professors, wants to be one, is one, or is just really snobby with English. Dennis Quaid is surprisingly and like-ably unlike-able, and Church is good as always, understated and with some spot-on timing. I also have to say that this is the first time I was annoyed by an Ellen Page character, so kudos to her for that. She's usually too adorable to be annoyed by. Her character is basically Juno, with none of the cool stuff. Still big words, still an odd attitude, but largely insufferable. I suggest checking it out. I give this film four vaguely out-of-shape Dennis Quaid characters (in which Quaid wears a fat suit) out of five, or four sleepy Thomas Haden Churches wearing red onesies with the butt flap hanging wide open for anyone walking by to cover up, so maybe cover your shame, man.