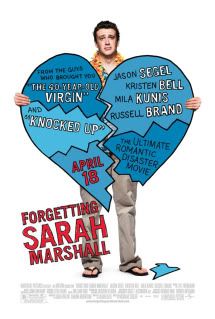 Last year, that tall guy from How I Met Your Mother starred in Forgetting Sarah Marshall, which he also wrote. It co-starred Kristen Bell, Mila Kunis, Paul Rudd, Russell Brand, and Jonah Hill, and there are definitely some shenanigans going on. It was directed by some dude I'd never heard of before, Nicholas Stoller, but that's ok. It's one of those movies that doesn't need Kubrick or Welles, it just needs someone to point the camera at the funny stuff that's happening. There's nothing wrong with a decent movie that relies primarily on awkwardness, great dialogue, and interesting songs sung by two characters. Also, there's a sex competition. Yes, you heard me. It is just as awesome as it sounds. Also, it was produced by Judd Apatow, so it automatically falls into the crazy category of Knocked Up and The 40 Year Old Virgin.
I greatly enjoy these kinds of movies, where virtually every line is something you kind of want to quote to other people. Sometimes it gets annoying (like when every moron that you bumped into wanted to yell "Yeah, baby!" after seeing Austin Powers), but it can be good, too. The music and songs are pretty decent, too. Segel's character is a musician, writing songs for a (decidedly terrible but incredibly apt parody) crime show starring his girlfriend, the titular Sarah Marshall, played by Kristen Bell. He's trying to write a Dracula musical. Seriously! It's pretty awesome. I am bummed out that the only spin-off from this movie is Get Him to the Greek, with Russell Brand and Jonah Hill. I wish I could see the real Dracula musical. I demand that it be produced! I demand it!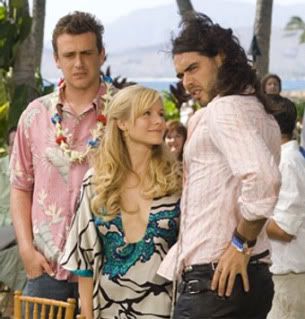 Peter Bretter (Segel) is a pretty talented dude, who works as a composer for Crime Scene: Scene of the Crime, a crime show parody based on shows like CSI: (which also co-stars William Baldwin, in a spot-on David Caruso parody). His long-time girlfriend Sarah Marshall (Bell) co-stars on the show, though he starts to feel unimportant and uncomfortable in the spotlight. She breaks up with him at the start of the movie, leaving him naked and vulnerable (quite literally). His step-brother Brian (Bill Hader) tries to cheer him up, but he is only vaguely comforted by random sex with strangers. Eventually, he escapes by going to Hawai'i, to a hotel that Sarah talked about often, where he meets Rachel (Kunis), a cute and adventurous customer service/front desk worker at the hotel. They get close, while Sarah shows up at the hotel as well with her new boyfriend Aldous Snow (Russell Brand), a completely ridiculous musician. There are basically lots of shenanigans involving sex, ex-lovers, new lovers, songs about Dracula, Jonah Hill making Peter feel awkward, making Aldous feel awkward, and then an insane scene where Sarah and Aldous try to out-sex Peter and Rachel. Also, Paul Rudd is a surf instructor named Chuck, or Kunu (which means Chuck in Hawai'ian). It's funny.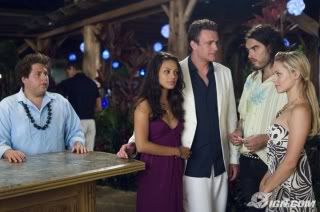 Okay, so there's some nudity. Okay, so there's a lot of nudity. Yes, most of it is Jason Segel. Yes, it is full-frontal. It ... It is a pretty awkward scene. Harrowing stuff. What nightmares are made of. Not really, but seriously. I had to close my eyes. Luckily, it's at the beginning, so if you can get through that, you'll love the rest of the film. Segel is surprisingly talented in virtually every way. He's a better actor than you'd expect, he's a much better musician than he seems, and he wrote the film entirely by himself (according to the credits, at least), though it's possible that there were some ad-libs and improvisations from the other actors, all of whom are talented. It's also surprising to see Kristen Bell and Mila Kunis in this kind of screwball sex comedy, where both actresses had previously been on relatively wholesome television series prior to this. Also, most Americans didn't really know who Russell Brand was at this point.
It's a hilariously entertaining movie, but a bit thin in terms of general plot, but that's acceptable. It's not often that films like this have real, thought-provoking plots or deep, rounded, incredibly developed characters. It's not really the point of these kinds of movies. The point is to forget about whatever dumb stuff is going on in the real world, and just laugh your stressed-out ass off for an hour and a half. Check out the special features, too, the commentary is great, and the line-o-rama and gag reel are worth checking out.
I give the film three awkward full-frontal nude shots out of five, or three hilarious and surprising sex competitions out of five.