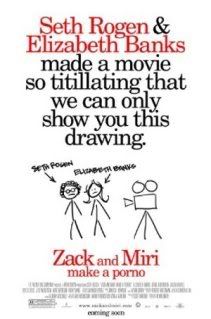 Fifteen years ago, this fat comic book nerd from New Jersey got a bunch of his friends to be in a movie that he filmed in the convenience store in which he worked. That movie was Clerks, and it was actually pretty impressive and awesome. It was well written, decently acted, considering virtually everyone on screen had never acted before, and it became a cult classic. He turned that popularity into a movie franchise based around the exploits of Jay and Silent Bob, played by his friend Jason Mewes and himself. And what does he do with that kind of clout? He makes a movie in which Seth Rogen, a chubby, hairy man, becomes the average joe's porn star. The film also stars Elizabeth Banks as Miri, Jason Mewes as a porn star, Craig Robinson as Zack's co-worker that serves as the porno's producer, and Traci Lords and Katie Morgan playing porn stars, which is a real stretch for them.
Seriously though, this movie is extremely decent. It's an interesting idea, bizarrely executed, and was fascinatingly cast. I'm of the firm belief that this entire film was imagined, produced, casted, written, shot, and acted while completely blitzed on pot. I haven't enjoyed a comedy about the porn industry this much since Trey Parker and Matt Stone came out with Orgazmo. Like my review of Inglourious Basterds, this film is a pretty big departure for Kevin Smith, in terms of principal cast, the fact that he doesn't star with Jason Mewes as Jay and Silent Bob, the location (Monroeville, PA instead of New Jersey), and that it doesn't take place in the supposed "View Askewniverse" as far as we know. Despite the new directions (except the general content/themes are pretty standard Kevin Smith fare), the film performs admirably. Get it? It's kind of a sex pun. Trust me, it's funny.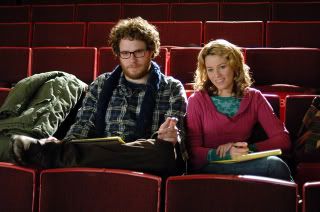 Zack and Miri have been friends since grade school. They live in an apartment together in Monroeville, Pennsylvania, and they share a car. They both work crappy jobs, though we don't actually see Miri doing hers. Zack works in a coffee shop. And all their utilities are getting shut off. They go to their 10th high school reunion, only to find that everyone's still kind of annoying, and that Miri's high school crush Bobby Long (played by Brandon Routh) is gay, and in a relationship with Brandon St. Randy (Justin Long), a gay porn star. This gives Zack a brilliant idea: to solve their money problems, they decide to make a porno, convinced that at least the several hundred members of their graduating class would want to buy it. They manage to recruit a stripper, a random guy named Lester, a bacheolor party entertainer, another random dude, and Zack's friend and goalie for their hockey team to help them make their movie. Along the way, Zack and Miri find that they may or may not have feelings for one another, which makes filming this bizarre, half-formed and insane porn movie exceedingly complicated. And there's a lot of weird sex, a lot of crazy and hilarious dialogue, and a lot of wacky shenanigans.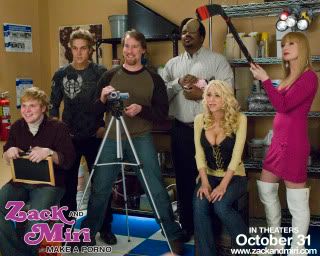 This film is definitely not family-friendly. There are almost 300 f-bombs dropped during the course of the film, plenty of simulated sex, naked butts, naked breasts, and ... well, all I can say is I feel bad for Jeff Anderson's character. He's the cinematographer, and he has to get pretty close and personal with shooting some of the scenes. It's refreshing to see Jason Mewes as a character other than the foul-mouthed drug dealing Jay character, and he's surprisingly good in his role as Lester. After so many Judd Apatow films, it's also nice to see Seth Rogen in a film with a little bit of a different flavor. It does share a lot of similarities with the typical Apatow fare, though, but to be honest, Kevin Smith has been doing it longer. I think. Yeah, that's probably right.
It's immensely hilarious, raunchy, and strange. The dialogue is pretty classic Kevin Smith, too. What Quentin Tarantino can do with his bizarre crime stories, Kevin Smith can do with wacky romantic raunchy comedies. The characters are interesting and engaging, and are relatively round, surprisingly. Even some of the secondary characters are like that. Craig Robinson's character grows quite a bit throughout the film, and both Zack and Miri make some real progress in their personal lives.
I give the film three and a half awkward and tender porn-star love scenes out of five, or three and a half "please don't say shit covered" scenes out of five. You'll get it when you watch it.