Don't get me wrong, the title of this entry isn't a bad thing. I've seen
Blow Dry
advertised as a romantic comedy, but it's more of a flamboyant dramedy. There is a vague, half-assed secondary plot that features
Josh Hartnett
and the worst British accent of all time, ending up with
Rachael Leigh Cook
, mercifully accentless. It's definitely British, which is a very good thing. It stars
Natasha Richardson
,
Alan Rickman
,
Bill Nighy
, the aforementioned sub-plot love-pair, and
Rachel Griffiths
. It was released in 2001, and was directed by
Paddy Breathnach
(he also directed
Shrooms
, a horror film about...mushrooms). It was particularly entertaining, and reminded me somewhat of
Baz Luhrmann
's first film,
Strictly Ballroom
, in a good way.
Blow Dry
is set in the small village of Keighley, which has just been named as the home of that year's British Hairdressing Championships. A hairdresser named Shelly Allen (Richardson) wants to bring her broken family back together by having them enter the competition. Shelly's ex-husband Phil (Rickman) and son Brian (Hartnett) are barbers/stylists in the same town, but not the same salon as Shelly. Ten years ago, Shelly ran off with Phil's hair model Sandra (Griffiths), and he's never forgiven her. Phil's old hairdressing rival Ray Robertson (Nighy) is in town for the competition, and he wants to win at any cost. He also brought his daughter Christina (Cook) as a hair model and colorist. Long story short, the two salons compete mostly against each other to win, while Shelly reveals her terminal cancer to Phil and Brian, and eventually Sandra, trying to bring her family back together before it's too late.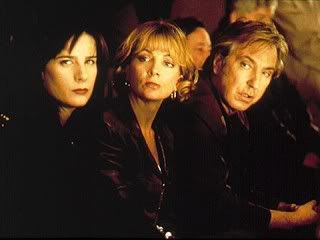 For most American audiences, the film was branded as a romantic comedy, with a poster that features Josh Hartnett with a blowdryer, and Rachael Leigh Cook blowing into his ear, which is apparently supposed to be sensual. Unfortunately, as I mentioned before, Hartnett's fake accent is pretty much the worst thing you'll ever hear, and he's a secondary character at best. Luckily, Rachael Leigh Cook's character is also relatively minor, so they get to hang out and be minor together, and eventually end up as a romantic couple, although nobody really cares. The primary focus is the extra-crazy and glittery Bill Nighy, the eternally dry and sarcastic Alan Rickman, and the glorious and sunny Natasha Richardson. Also, Rachel Griffiths is a surprisingly complex character, and is a treat throughout the film.
I'm curious as to the authenticity of the in-film hairstyles that the largely anonymous stylists create. I would have liked some additional nods to the hairstylists, maybe some indication that they were real stylists (or perhaps the actual stylists of the film, what a concept), but maybe they were too subtle for someone with no cosmetology background. Maybe the font during the credits was a bit larger than usual, or something. Who's to say?
The best part of the movie, for me, was a combination of the over-the-top character of Bill Nighy, and the more-stylish-than-usual but still hilariously dry Alan Rickman (he basically is so dry, he goes right back around to being interesting again). Nighy is literally coated in glitter throughout the movie, and when he's styling, he's bedazzled out to the nines, as is pretty much everyone else. That's what reminds me of
Strictly Ballroom
the most: the stylists have their little tables all over a large auditorium, and everyone's wearing sequins and sparkles, moving around seemingly synchronized, with the town's mayor becoming more and more flamboyant and passionate with every appearance, seeming to really warm to the spotlight.
This film is extremely cute, heartwarming, and even touching at times. For some reason, British films are always just a bit different than ours; it may be a cultural difference or sensibility that leads them to direct a little differently. Even though it's from 2001, it almost looks like it's from the 1990s, just in terms of camera quality. It is an entirely entertaining film, with interesting characters and a good storyline. I recommend it! I give it four glittery Bill Nighy's out of five, or four terrible accents out of five.