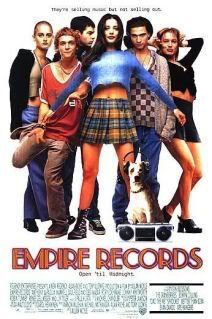 Seriously, if you haven't seen Empire Records, where have you been for the last fifteen years? Ok, so fourteen years. Released in 1995, Empire Records was met with generally negative reviews, though most people I know absolutely adore it, and watch it annually. It features a smorgasbord of young actors, many of whom went on to bigger (or at least other) things. Featuring Anthony LaPaglia, Liv Tyler, Debi Mazar, Robin Tunney, Ethan Embry (credited Ethan Randall), and Renée Zelwegger, and Maxwell Caulfield, among others. Several of the actors are now on CSI: Miami, oddly enough, and Ethan Embry would star in another popular teen coming-of-age film in Can't Hardly Wait. There are also a few people you've probably never heard of, but that's totally ok. Also, there's lots of alternative music on the soundtrack, which used to be cool.
It's full of romance, angst, attempted suicide, robbery, existential quandaries, the pain of employment, the pain of unemployment, the inherent problems within the corporate system, drugs, drug addiction, the pressures of college, the fear of expression, the fear of rejection, parental issues, and also there is music. Oh, right, Rex Manning shows up, a washed up fictional pop star, whose fan-base is inexplicably old considering he was supposed to be popular in the 1980s, at most 14 years before this movie takes place. It's pretty inconceivable that all of his fans that arrive would be middle-aged, but it also may be an exaggeration of youth, imagining "older" people as older than they actually are. Plus, Rex Manning was pretty obnoxious, so maybe he perceives his fan-base as older than they really are, to really reflect his washed-up status of used-to-be-pop-star.
The plot is relatively simple, and takes place over the course of a single day. Empire Records is a well-liked and well-established independent record store, full of young characters of differing backgrounds and musical opinions. It's owned by Joe (LaPaglia), a hip manager that either used to be a drummer in a real band that never made it, or just really enjoys the drums. The characters represent the tortured artist, the vaguely literary rebel, the overly ambitious college-bound student, the angsty and suicidal goth-punk girl, the promiscuous girl, the punk, the shoplifter, and of course, Rex Manning. The livelihood of the store is threatened, when the employees find out that the owner wants to turn it into a popular music store chain, and they all deal with their interpersonal problems throughout the day. That night, they throw a big party to raise money to save the store, which is accomplished in a relatively easy and seemingly unimportant manner.
The actual plot seems to take a back seat to the relationships between the characters, how they interact with their environment, each other, the customers, and Rex Manning. Pretty much all of the main characters openly mock Rex Manning, except for Corey (Liv Tyler) who wants him to be her first sexual encounter, and Gina (Zellwegger) who actually ends up having sex with him (in the copy room). This is obviously a point of contention between the two characters. I still don't fully understand why Corey expects it to be a magical experience; she romanticized Rex from her girlhood as a celebrity, but she puts all of her hope and faith into this one encounter, though we never really understand what she plans on doing after that. She then unjustifiably freaks out on Gina for having sex with Rex (though the very idea of sex with Rex Manning on Rex Manning Day should be punishment enough) because she's stressed out due to unfair academic expectations set by her parents, as well as her addiction/dependence on speed to get enough studying done to get into Harvard (though she does receive an acceptance letter to Harvard during the course of the story). Also, a girl tries to commit suicide the previous day (or some undefined period of time before the day the film takes place), and shaves her head when she arrives to work. Also, a kid calling himself Warren Beatty shows up and tries to rob from the store, and then wants to work there, later bringing a gun to the store. Also, some other stuff happens?
Overall, the movie is extremely entertaining, if somewhat nonsensical. It follows some traditional dramatic patterns (as the Lady so graciously pointed out to me), or even Aristotle's definition of tragedy (plot, theme, character, dialogue, rhythm, spectacle), though it's fair to say that for the most part, all movies have these elements within them, simply twisted about for other means. Anyway, the point is, it's a pretty important film for Generation X. It deals with all the important issues of youth, yet all of their problems are resolved with money in the end (even though it allows them to remain independent, and away from the crushing oppression of a national chain corporation). I recommend checking out this film, especially if you were young and/or a teenager in the 90s.
I give it three out of five Rex Manning Days out of five, or three fake funerals for the bald-headed suicidal girl out of five.