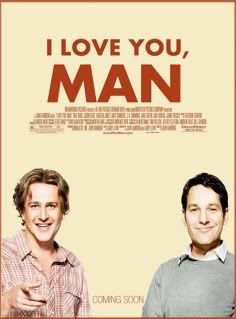 I don't usually write about movies this new, but I was able to see I Love You, Man with my lady this weekend, so I figured I would write something about it. For those of you that have been living away from the glittering lights of the post/mid-Apatow era, there have been a large upswelling of comedy films that are reminiscent of the classic "animal comedies" of the 70s and 80s, with modern updates. These have been filtering in for the last ten years or so, but have recently reached what seems to be a fever pitch with films like The 40 Year Old Virgin, Knocked Up, and Funny People, all directed by Judd Apatow. In addition to those fine films, several of his common supporting players have been featured recently in their own films, and both Paul Rudd and Jason Segel have stood out from that crowd lately.
Paul Rudd's been around forever, and you might not have even known it. You remember Clueless, right? Well, he was the stepbrother or something? I dunno, I didn't really like the movie, but I know he was in it. How about 200 Cigarettes? He was in that, and he was pretty good. He kind of looked like Ben Affleck then, but he's way cooler. Plus he was on the last season or so of Friends as Phoebe's love interest. Remember that? That was way good times. Once he appeared in Anchorman, though, things really started getting kick-ass for him, and his career has seen an impressive rise.
You've seen How I Met Your Mother, right? For one, Neil Patrick Harris has really rebranded himself with that role, and I sincerely hope that his role as Doogie Howser is not the first thing people think of when they think of NPH (though it was a decently entertaining show and without it, who knows where he'd be). Also, he was pretty awesome as himself in Harold and Kumar. Wait, what was I talking about? Oh, right. That crazy little show also features Jason Segel as Marshall, but he really got his start in Apatow's television series Freaks and Geeks. Ironically, the supporting characters in that show have really taken off lately, but I haven't really seen that main character kid in much. Which kind of sucks, but hey, whatever. That's Hollywood, man. He also wrote and starred in Forgetting Sarah Marshall, which I was pleasantly surprised to find out is actually pretty awesome. So it's no wonder that when they team up for I Love You, Man (directed by John Hamburg, who directed some episodes of Apatow's Undeclared, as well as the writer on a lot of other decent comedies), it's a match made in a strange, vaguely homoerotic man-romance heaven.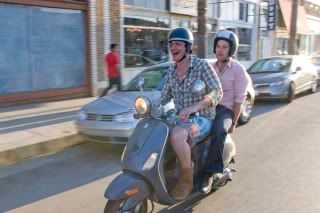 When Peter Klavin, a moderately successful real-estate broker, decides to ask his girlfriend Zooey (played by Rashida Jones) to marry him, he thinks things are pretty boss, broheim. But it turns out, he doesn't really have any friends. He's always been focused on the girls he's been dating, and realizes that his closest male friend may be his gay brother Robbie (Andy Samberg), who already has a best friend (their dad Oswald, played by J.K. Simmons). Spurred by the desire to have a real best man at his wedding, he goes on a strange series of "man-dates," and one of them is exactly as gay as it sounds (Doug, played by Thomas Lennon ends up kissing poor Peter at the end of their "date"). Eventually, through happenstance, Peter meets Sydney Fife at a housewarming (Peter is trying to sell Lou Ferrigno's house), and they become friends. When he starts to spend too much time with Sydney, Zooey feels a little jealous, but it helps them both evaluate their current lifestyle. Eventually, it has a pretty happy ending, which is nice.
Okay, so through the movie, I was expecting one of two things to happen: Sydney was scamming Pete (because Sydney's some sort of financial consultant/investor, and we never see him actually working), or that they would end up becoming totally romantic for each other and Peter would ditch Zooey at the altar for Sydney. I had similar strange reservations when I watched Knocked Up for the first time; I wasn't really sure where the movie was going, and not in a bad way. I don't like it when films are too predictable (which it's easy to avoid when half the dialogue seems to be improvised and largely nonsensical). Thankfully, I Love You, Man is very much not predictable, and it's interesting to see how Peter and Sydney's characters both evolve through the film, due to their contact and friendship.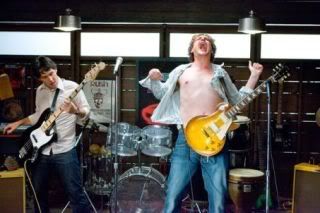 This movie is also a quote-machine, which is pretty common with films like this, and has been ever since Animal House and/or Caddyshack. The key to pulling off a movie like this is the key players having the ability to think on their feet, stay in character, and react quickly and hilariously to each new and hilarious thing presented to them. I have a love/hate performer/audience member relationship with Jason Segel because he's only two years older than me. I have the same thing for Seth Rogen for similar reasons (though in his case it's worse, because he's only like four months older than me, the talented jerk). However, it's a good thing, because Paul Rudd is something like forty now (which is not a bad thing), and has quite a bit more experience than Segel. They pull off the friendship thing, though, and I can't tell if Rudd's character is supposed to be younger than he really is, or if Segel's is supposed to be older. It's not inconceivable that they would be of disparate ages and be friends, but they both latch onto a love for Rush, which isn't found much these days (as evidenced by Zooey's ignorance of them in general).
This movie is seriously funny. The charm of films like this is the strange little heart buried within the fart jokes and nonsense nicknames and phrases. There's actually kind of a tender love story here, or at least a tender friendship story, which isn't seen all that often. It serves as something of a commentary on the modern convention and idea of masculinity and masculine friendship, in that guy friends only want to talk about sex, drink beer, play poker, and something involving sports. With Sydney and Peter (Jobin and Pistol are their respective nicknames for one another), they commune through music, food, general culture, activity, and mutual respect. Not to sound really kind of weird about it, but it's a sweet movie, man! I feel that I should passively mention cinematic qualities, of which it really has none. However, films like this act more like plays in that the setting, surrounding, camera angles and camera movements don't really need to enhance the action at all. It's dialogue driven, which means we just need to see who's talking and where they are maybe just for a general notion. Like Before Sunrise and Before Sunset, Sydney and Peter share a lot of screen time together.
Watch it because it's funny, watch it because it's sweet, or just watch it so you'll know all the strange quotes and nicknames people might be throwing around in the workplace or in your circle of friends. Plus, Lou Ferrigno puts Jason Segel in a sleeper hold, and it has a lot of subtle cameos (Matt Walsh, Jay Chandresekhar, Rob Huebel, Aziz Ansari and Nick Kroll to name a few) and interesting supporting cast (like Jaime Pressly and John Favreau as Zooey's married friends, or Jane Curtin and J.K. Simmons as Peter's parents, and Jo Lo Truglio as a strange little man with a high voice).
I give it three Jobins out of five, or three migouches out of five. Totes magotes.